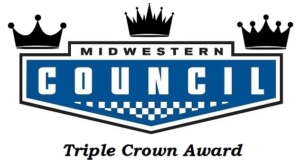 Midwestern Council Triple Crown Award is earned in "MCSCC" racing when a driver claims 3 out of the 4 championships below of LSAX Championship (Madison or Rockford), HSAX Championship, W2W Sprint Racing, and Endurance Racing Championship).
Also, a car owner can become a winner of the triple crown by winning any of the three championships and a volunteer who volunteers and works these events with details below.
Driver & Car Owner
Driver and Car Owner has the same qualifications on how to win a championship for each brand given the rules in the GCR for those brands in MCSCC, MSCC, and SCCR. You cannot go for both a driver and car owner, you will have to choose, it has to be one or the other at a given time.
Volunteers
To be eligible for a Triple Crown Volunteer Award a volunteer must (1) be a member of any MCSCC Club and have volunteered in at least 51% of 3 out of the 4 brands of events.
If a volunteer becomes a member of MCSCC during the year after one or more events have been held that they worked, the event total for volunteer earned in the previous events before membership will be credited and documented.
For Volunteers with Madison / Rockford LSAX – we will check with organizers/club presidents to see what duty that was signed up for and worked.
For all of the other MC Series HSAX 51% event schedule, Sprints 51% event schedule, and Enduro 51% of the schedule, volunteers need to volunteer in more than ½ of the days of each series to be eligible. *So, if you are signed up in timing and scoring, for example, it must be worked for more than 1/2 of a race days schedule.
Volunteers need to sign up on Motorsport Reg and officially work a day in a specific position, ie. (corner worker, timing and scoring, tech, etc.).
The MCSCC Triple Crown Award begins for the year 2021 and will move forward from there. A competitor, team owner, or volunteer has a span of 24 months (2 racing seasons) to complete this challenge.
However, if they can pull this off in a 12-month (1 racing season) span, they will receive a "Bonus" provided by MCSCC, which includes a competitor's membership to their club of choice, the competitors licensing fees are covered by 
Council
 for the following year only, and a special trophy plaque award signifying completion in a 1 season span.
The MCSCC Triple Crown Award in a 2-year span will receive a trophy plaque for their efforts as an award.
| 2021 Inaugural Class |               Volunteers – Chris Falconer & Tom Madsen |
| --- | --- |
| | |